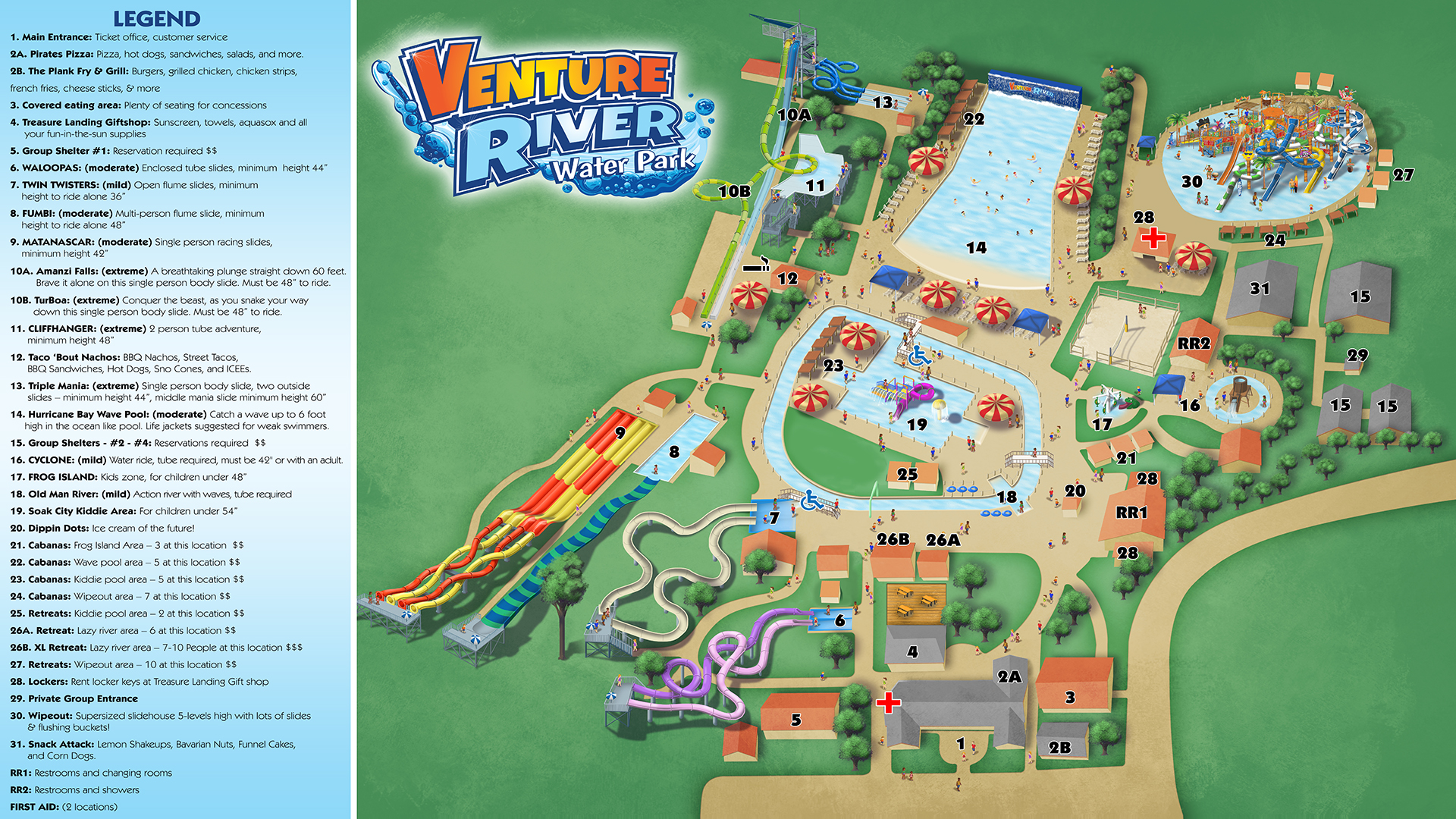 TurBoa
Conquer the beast, as you snake your way down this single person body slide. Must be 48″ to ride.
Amanzi Falls
A breathtaking plunge straight down 60 feet. Brave it alone on this single person body slide. Must be 48″ to ride.
Wipe Out
A supersized slide house that's five levels high with 3 tunnel body slides, a multilane slide, a crazy cruise slide, 2 flushing buckets, and numerous water interactives!  Great fun for the whole family. Height requirement for slides range from 36" to 40".
Matanascar
Matanascar is a four lane, head first, mat racing slide that accelerates riders through enclosed twisting tunnels. Challenge your friends and speed over the double humps before crossing the finish line. You must be 42″ tall to ride the Matanascar.
The Waloopas
Waloopas "IT'S LIT" Lights and Sound experience – enjoy the LED lights that will strobe to fun songs on our classic Waloopas slides. Giant continuous river inner tube slides allow guests of all ages to enjoy single and double riding through the totally enclosed tunnels.  You must be 44″ tall to ride the WALOOPAS.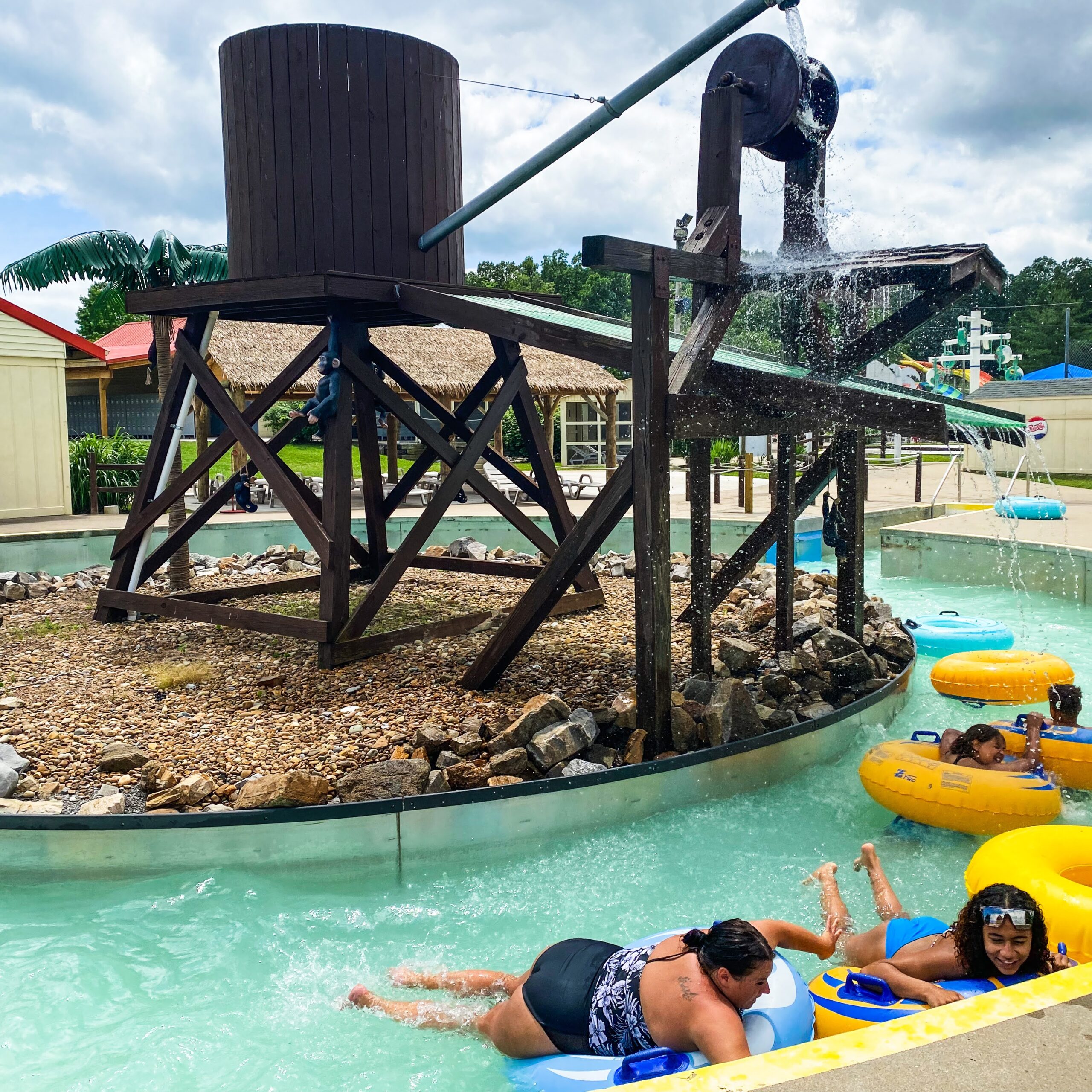 Cyclone
Let the rapid waters take you around speedy circles in the Cyclone- watch out for the splashing water overhead! Tube required. Riders under 42″ must be accompanied by an adult, and are reccomended to wear lifejacket.
Hurricane Bay Wave Pool
Catch a wave in our 18,000 square foot Wave Pool! It's 480,000 gallons of fun and relaxation. Relax in a sea as smooth as glass, until you hear the blast of the Hurricane warning horn. Then you can ride the waves all the way in, or just bob on the breakers. Life jacket suggested for weak or non-swimmers.
Fumbi
Enjoy the FUMBI, a giant "bubba tub" slide! Grab all the thrill seekers who dare to ride down a 3.5 story exhilarating triple dip plunge. Two to Four riders. You must be 48" to ride alone or 44" with an adult.
Old Man River
If rest and relaxation are what you're longing for, then let the peaceful waves of Old Man River massage your tensions away. Float on a single or double tube around an endless river. Tube required.
The Cliffhanger
The Cliffhanger is for those who are seeking thrills and chills. The excitement starts with a killer 3.5 story drop, then rise to the top of the cliff for another shot BACKWARDS! For the adrenaline seekers grab a friend, because this is a ride you can't ride alone! This is an extreme ride, you must be 48″ tall to ride the cliffhanger.
Frog Island
Splish, splash, and wait in anticipation for the hanging frogs to drench you with water. Kids can also enjoy Frog Island's Frog Slide.
Soak City Kiddie Pool
This is the place to be for families with small children. This extra large island offers:
Soak City – Interactive Water Play

Log Walk – Hang on tight and try to cross the lily pads.
The pool in this area is approximately one foot deep, and staffed with highly trained life guards. This is a non-smoking area. The attractions in this area are for kids UNDER 54″ ONLY.
Twin Twisters Tube Slide
These tube slides are too much fun for just one! The whole family can enjoy the excitement of the twisting and turning open Twister in our family tubes (up to four people)! Or grab a friend and hang on as you race down the enclosed Twister on a double tube.
One- four riders. Minimum height 36″ to ride alone. Riders under this height may ride with an adult.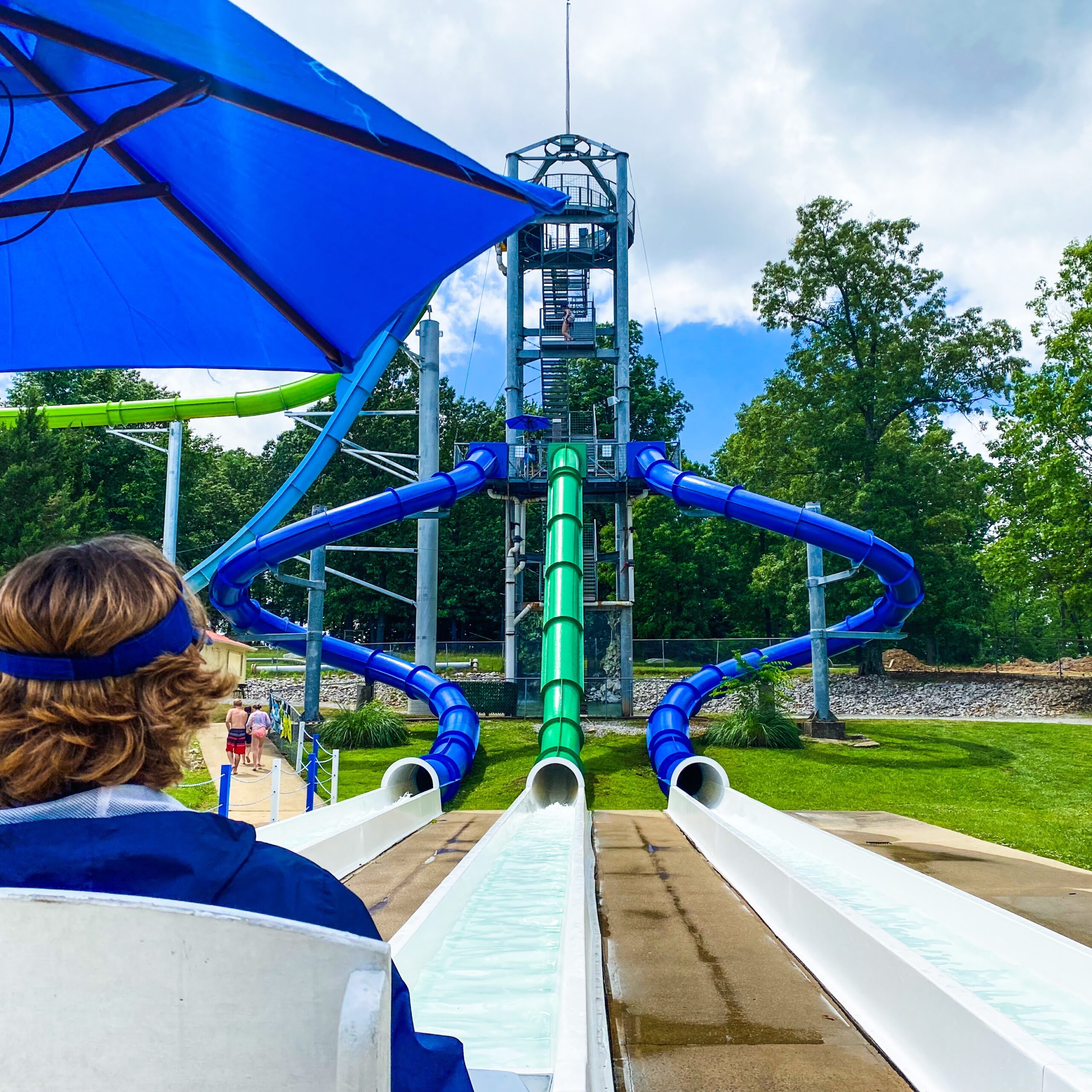 Triple Mania Speed Slides
Find adventure in one of the three thrilling, fully enclosed, speed slides. Choose between the high velocity curves of the outer slides or brave the middle slide for a virtually straight down drop all the way to the bottom! It's so hard to choose, so ride them all – If you dare! You must be 44″ tall to ride the outer slides, and 60″ tall to ride the middle slide.